As your family's primary trusted advisor, we will help you understand and evaluate the many important financial decisions that affect you and your family over time.
 We will help you define your financial goals and provide you with input and analysis regarding your overall asset allocation, debt structure, retirement savings, and other areas of your personal financial situation. We will develop a plan to help you reach your goals, and adapt your plan as your circumstances change over time and as new challenges and opportunities emerge
Financial planning is the process of meeting your life goals through the proper management of your finances. Life goals can include buying a home, saving for your child's education or planning for retirement.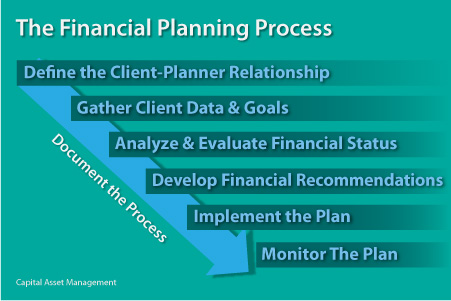 The financial planning process, as described by CFP Board, consists of six steps that help you take a "big picture" look at where you are financially. Using these six steps, you can work out where you are now, what you may need in the future and what you must do to reach your goals.
The process involves gathering relevant financial information, setting the goals, examining your current financial status and coming up with a strategy or plan for how you can meet your goals given your current situation and future plans.
The Benefits of Financial Planning
At Capital Asset Management we use Financial Planning to provide the big picture approach to achieving your financial goals.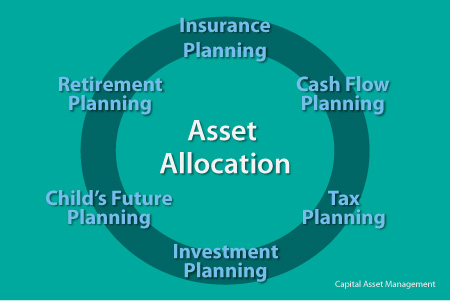 Financial planning provides direction and meaning to your financial decisions. It allows you to understand how each financial decision you make affects other areas of your finances. For example, buying a particular investment product might help you pay off your mortgage faster, or it might delay your retirement significantly. By viewing each financial decision as part of a whole, you can consider its short and long-term effects on your life goals. You can also adapt more easily to life changes and feel more secure that your goals are on track.
Investment Advisory Services offered through SCF Investment Advisors, Inc., a Registered Investment Advisor.
Capital Asset Management, LLC and SCF Investment Advisors, Inc. do not offer tax or legal advice. Please consult your CPA or Attorney for more information.
Note: This content may contain privileged, proprietary, or otherwise confidential information. If you are not the intended recipient or otherwise believe that you have received this message in error, please notify the sender immediately and delete the original from your computer. Any dissemination, distribution, copying, or other use of this message or any of its content by any person other than the intended recipient is strictly prohibited. Investment Advisory Services offered through SCF Investment Advisors, Inc., a SEC registered investment adviser. Warning: All email sent to or from the SCF Investment Advisors, Inc. email system is subject to archival, monitoring and/or review by SCF Investment Advisors, Inc. compliance personnel.
This website contains hyperlinks (or "links") to other websites that are not associated with this site. Such unassociated websites may contain links to other unassociated sites as well. These links are provided as a convenience to you and to assist you in your search for information. We make no endorsement, express or implied, about any of these linked sites, and we are not responsible for materials posted or activities that occur on such linked sites, and do not review (1) content or advertisements posted on or (2) activities occurring on these linked sites. If you decide to link to any unassociated website, it is at your own risk. Because we are not associated with these linked websites, you should direct any concerns or problems you might have with any such site to that site's administrator or webmaster.